If you've ever had to step over toys without tripping, just imagine how a cat and 3 dogs feel about it! We are loving this video of a family of pets walking through a maze. The owners stood up lots of markers and colored pencils on the floor. Then they let in the pets one by one to see what they would do. Hint: the cat and the dogs do not handle it the same! Check out all those furry paws, then do the math on them. 

Wee ones: A cat and 3 dogs try the maze. How many pets is that? 

Little kids: If Mia the cat runs through the maze in 4 seconds, and Akira the golden retriever takes 6 seconds longer, how long does Akira take? Bonus: How many paws do the cat and 3 dogs have all together? Count up if it helps! 

Big kids: How many objects do you think are out there, without counting all of them? How would you go about guessing?Bonus: We count 65 objects. If Atena chews on 1/5 of them, how many does she leave alone? 
Answers:
Wee ones: 4 pets. 

Little kids: 10 seconds. Bonus: 16 paws. 

Big kids: Lots of ways to do this! One way is to count a few of them in a small area, then guess how many clumps that size there are in total. You could count 10, then guess how many 10s fit. It appears there are 65 objects. Bonus: 52 objects escape being chewed, since Atena chews on 13 of them.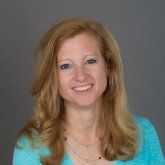 Laura Bilodeau Overdeck is founder and president of Bedtime Math Foundation. Her goal is to make math as playful for kids as it was for her when she was a child. Her mom had Laura baking before she could walk, and her dad had her using power tools at a very unsafe age, measuring lengths, widths and angles in the process. Armed with this early love of numbers, Laura went on to get a BA in astrophysics from Princeton University, and an MBA from the Wharton School of Business; she continues to star-gaze today. Laura's other interests include her three lively children, chocolate, extreme vehicles, and Lego Mindstorms.