It's easier to do one thing at a time than two things. Sometimes grown-ups get carried away doing lots of things at once. It's called multitasking, and it usually ends with them dropping their phone into a pot of tomato sauce (don't ask). Well, fortunately some grown-ups CAN do two things at once – and do it quickly, too! This guy named Dylan Sorensen set the world record for fastest running while dribbling a basketball. He ran 1 mile in just 4 minutes and 37 seconds while bouncing the ball to beat the old record. This is the 3rd time a new record has been set in the past year…do you think you could bounce around the track faster?
Wee ones: What shape is a basketball?
Little kids: If Dylan dribbled the basketball switching between his hands in this pattern: right, right, right, left, then right again to start again… which hand did he use for the 6th dribble? Bonus: What hand did he use for the 16th dribble? Can you figure it out without counting out?
Big kids: The world record for running 1 mile without a basketball is 3 minutes 43 seconds. How much less time is that than this record of 4 minutes 37 seconds? Bonus: If Dylan ran all 4 laps in the exact same amount of time, how long did each lap take? (Round to the nearest whole second.)
Answers:
Wee ones: A circle, or in 3D, a "sphere".
Little kids: His right hand, because the pattern restarts with the 5th dribble. Bonus: Left, because every 4th dribble – which means every multiple of 4 – is left.
Big kids: 54 seconds less. You can subtract 37 seconds to reach 4 minutes, then another 17 to reach 3 minutes 43 seconds – or you can "count up" from 3 minutes 43 seconds. Bonus: 1 minute 9 seconds. 4 minutes divides neatly by 4, leaving 37 seconds. 4 goes into 37 9 times, with a remainder of 1.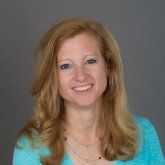 Laura Bilodeau Overdeck is founder and president of Bedtime Math Foundation. Her goal is to make math as playful for kids as it was for her when she was a child. Her mom had Laura baking before she could walk, and her dad had her using power tools at a very unsafe age, measuring lengths, widths and angles in the process. Armed with this early love of numbers, Laura went on to get a BA in astrophysics from Princeton University, and an MBA from the Wharton School of Business; she continues to star-gaze today. Laura's other interests include her three lively children, chocolate, extreme vehicles, and Lego Mindstorms.