Orangutans are a lot like people, and like people they can get bored quickly. So this zoo in Belgium makes sure their orangutan has animal friends – a big bunch of otters! Orangutans can grow to up to 5 feet long and weigh 200 pounds. Meanwhile, otters are only around 2 feet long – and weigh only 6-7 pounds. But that just makes them better at playing hide-and-seek. We just hope the orangutan doesn't sit on them by accident.
Wee ones: Do you think you weigh more than a 6-pound otter? Step on a scale and compare that number!
Little kids: If you're playing hide-and-seek with 7 otters and you've found 5, how many do you still need to find? Bonus: The zoo has 3 orangutans, who are 3 years old, 15 years old, and 24 years old. How much older is the middle one than the youngest? Count down from 15 or up from 3 if it helps!
Big kids: About how many 7-pound otters would it take to equal your own weight? Bonus: How many 7-pound otters would it take to outweigh a 200-pound orangutan?
Answers:
Wee ones: We bet you do weigh more than 6 pounds!
Little kids: 2 otters, because 7 – 5 = 2. Bonus: 12 years older, because 15 – 3 = 12.
Big kids: Different for everyone… find out your weight, then divide that number by 7. Round to the nearest otter! Bonus: 29 7-pound otters would weigh 203 pounds. Every 10 otters = 70 pounds. 3 sets of 10 would make 210 pounds, just as 3 x 7 = 21. But then you can subtract 1 7-pound otter from those 30 otters and still have more than 200 pounds of otter.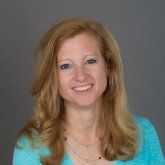 Laura Bilodeau Overdeck is founder and president of Bedtime Math Foundation. Her goal is to make math as playful for kids as it was for her when she was a child. Her mom had Laura baking before she could walk, and her dad had her using power tools at a very unsafe age, measuring lengths, widths and angles in the process. Armed with this early love of numbers, Laura went on to get a BA in astrophysics from Princeton University, and an MBA from the Wharton School of Business; she continues to star-gaze today. Laura's other interests include her three lively children, chocolate, extreme vehicles, and Lego Mindstorms.