Every bridge has a sign on its side listing its "clearance" – the bridge's height above the road in inches and feet. Why? So we don't have what happened in this picture! This truck tried to drive under a bridge even though it was too tall to fit. This is a case where doing the math could save the day.
Wee ones: Which is taller in that picture, the car on the left or the truck on the right?
Little kids: The truck got stuck at 2:00 pm, If it didn't get un-stuck until 2 hours later, when did the truck finally roll free? Bonus: One way to get a truck un-stuck is to let the air out of all its tires. If the truck is an 18-wheeler and you've let the air out of just 1 tire, how many tires do you have left to do?
Big kids: If the bridge height was 11 feet 11 inches and the truck was 1 inch taller, how tall was the truck? (Reminder if needed: How many inches are in 1 foot?) Bonus: If that truck had a 36-mile trip, and the distance it had traveled so far was only 1/2 of what it had left, how far had it driven so far?
Answers:
Wee ones: The truck is taller.
Little kids: At 4:00 pm. Bonus: 17 wheels.
Big kids: 12 feet. Bonus: 12 miles. If the distance that's left is double the distance traveled already, that's the same as having 3 pieces all that length….and 36 divided by 3 is 12.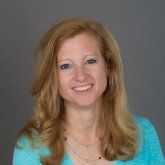 Laura Bilodeau Overdeck is founder and president of Bedtime Math Foundation. Her goal is to make math as playful for kids as it was for her when she was a child. Her mom had Laura baking before she could walk, and her dad had her using power tools at a very unsafe age, measuring lengths, widths and angles in the process. Armed with this early love of numbers, Laura went on to get a BA in astrophysics from Princeton University, and an MBA from the Wharton School of Business; she continues to star-gaze today. Laura's other interests include her three lively children, chocolate, extreme vehicles, and Lego Mindstorms.