This map shows every state decorated for its favorite Halloween candy. Even though Snickers is America's favorite candy bar overall, it's the top candy in only a couple of states. Candy corn is also all over the map, since Americans buy and eat 20 million pounds of those funny orange triangles. Of course, out of the 600 million pounds of candy we'll buy in total, that just sounds like a little snack.
Wee ones: What shape is the brown and green Milky Way state (Colorado) near the middle? How many sides does it have?
Little kids: Find one of your favorite candies on the map. How many other times does it show up? Bonus: If tonight you get 10 kinds of candy with exactly 10 pieces of each, how do you count up all your pieces by 10s?
Big kids: Count the states with your favorite candy. Out of 50 states, how many have some other favorite candy? Bonus: If every candy sold 20 million pounds this week, how many candies would it take to add up to the 600 million pound total? (Hint if needed: How many would add up to 60 million pounds?)
Answers:
Wee ones: A rectangle, which has 4 sides.
Little kids: Different for everyone…it might show up twice, 3 times or even 4 times! Bonus: 10, 20, 30, 40, 50, 60, 70, 80, 90, 100.
Big kids: Different for everyone…subtract 1, 2, 3 or 4 from 50 (giving you 49, 48, 47, or 46 states). Bonus: 30 candies, since it would take 3 just to get to 60, and then you need 10 times that.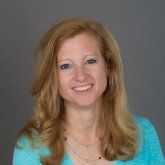 Laura Bilodeau Overdeck is founder and president of Bedtime Math Foundation. Her goal is to make math as playful for kids as it was for her when she was a child. Her mom had Laura baking before she could walk, and her dad had her using power tools at a very unsafe age, measuring lengths, widths and angles in the process. Armed with this early love of numbers, Laura went on to get a BA in astrophysics from Princeton University, and an MBA from the Wharton School of Business; she continues to star-gaze today. Laura's other interests include her three lively children, chocolate, extreme vehicles, and Lego Mindstorms.