Animals are great at making friends. We've seen hedgehogs cuddle up with kitties, turtles hang out with a capybara, and even cats (cheetahs) and dogs get along. But this horse and goose duo just might take the cake. Six-year-old Waffles is actually a miniature horse, which explains why he's barely taller than Hemingway the goose. Hemingway helped calm Waffles when he was sick, and now the two never want to be apart. So if you want to adopt these adorable farm friends, it's a package deal!
Wee ones: If Waffles the mini-horse has 4 legs and Hemingway the goose has 2, who has more?
Little kids: Mini-horses are normally 3 feet tall at their shoulder. Are you taller or shorter than that? Grab a measuring tape and find out! Bonus: If Hemingway stands on Waffles' head and each friend is 3 feet tall, will that whole stack stand taller than you? By how much?
Big kids: If Waffles eats 8 waffles for breakfast and Hemingway has 1/4 of that amount for himself, how many waffles does Hemingway have? Bonus: If Hemingway honks 3 times every 15 minutes and Waffles whinnies 6 times every 24 minutes, how many more whinnies than honks will you hear in 4 hours?
Answers:
Wee ones: Waffles has more legs.
Little kids: Different for everyone…subtract 36 inches from your height, or your height from 36 inches. Bonus: Different for everyone again, but that goose's head is probably higher up than yours! Subtract your height in feet from 6 feet, or for big kids and grownups, take 6 feet from your height.
Big kids: 2 waffles, because 8 / 4 = 2. Bonus: 12 more whinnies than honks. Hemingway honks once every 5 minutes, while Waffles whinnies once every 4 minutes. That makes 15 whinnies to 12 honks in each hour, and 3 more whinnies x 4 hours = 12 more whinnies.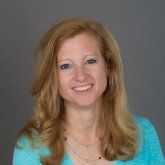 Laura Bilodeau Overdeck is founder and president of Bedtime Math Foundation. Her goal is to make math as playful for kids as it was for her when she was a child. Her mom had Laura baking before she could walk, and her dad had her using power tools at a very unsafe age, measuring lengths, widths and angles in the process. Armed with this early love of numbers, Laura went on to get a BA in astrophysics from Princeton University, and an MBA from the Wharton School of Business; she continues to star-gaze today. Laura's other interests include her three lively children, chocolate, extreme vehicles, and Lego Mindstorms.