Have you ever played with dominoes? One way to play is to stand up the little rectangles in a long line, then knock over the first domino to set off a chain reaction. Well, it turns out you can play dominoes with cereal boxes. This elementary school just set a world record for the "most cereal boxes knocked down in a domino run." The teachers and students set up more than 6,000 boxes, and 3,730 of those fell! It took 4 tries to get that many boxes to fall. After that last attempt, all the cereal was given to a food bank. Domi-no way to beat that!
Wee ones: A rectangle has 4 sides. Can you name a shape that has 3 sides?
Little kids: If the domino pattern has a box of Cheerios, then a box of Fruit Loops, then a box of Rice Krispies, and then repeats, what type of cereal is the 8th box? Bonus: What about the 14th box?
Big kids: If the school set up exactly 6,000 cereal boxes and knocked over 3,730, did more than half the boxes get knocked over? Bonus: If every one of those 6,000 boxes held 10 bowls of cereal, how many bowls of cereal were in the domino chain?
Answers:
Wee ones: A triangle has 3 sides.
Little kids: Fruit Loops. Bonus: Also Fruit Loops. It is 6 boxes later (14 – 8 = 6), so the 14th box is 2 full rounds of the pattern from the 8th box.
Big kids: Yes, because half of 6,000 is 3,000, and 3,730 > 3,000. Bonus: 60,000 bowls of cereal!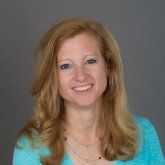 Laura Bilodeau Overdeck is founder and president of Bedtime Math Foundation. Her goal is to make math as playful for kids as it was for her when she was a child. Her mom had Laura baking before she could walk, and her dad had her using power tools at a very unsafe age, measuring lengths, widths and angles in the process. Armed with this early love of numbers, Laura went on to get a BA in astrophysics from Princeton University, and an MBA from the Wharton School of Business; she continues to star-gaze today. Laura's other interests include her three lively children, chocolate, extreme vehicles, and Lego Mindstorms.