It's fun to kick a soccer ball into a goal. But if you miss the goal, you have to chase the ball. Sometimes that ball rolls too fast to catch down a hill. And sometimes there's an ocean at the bottom of that hill. That's what happened to one kid's soccer ball. It splashed into the water and floated more than 100 miles across the sea, from a town in Ireland to a place called Tywyn, Wales. The person who found it in Wales posted a picture online, and so many people shared the photo that the ball's owner was found in less than a day! We bet everyone got a real kick out of that.

Wee ones: What shape is a soccer ball?
Little kids: If the ball floated for 3 days, then dolphins played soccer with it for 3 days, and then it floated for 3 more days before reaching shore, how long was it at sea? Bonus: If those dolphins split up into 2 teams of 8 players each, how many dolphins were playing sea soccer?
Big kids: If it took the soccer ball 10 days to float 120 miles, how many miles did it float per day on average? Bonus: The longest distance anyone has kicked a soccer ball (without the ocean's help) is 247 feet. How much longer is that than a 109-foot long soccer field?
Answers:
Wee ones: A circle, or in 3D, a sphere.
Little kids: 9 days. Bonus: 16 dolphins.
Big kids: 12 miles per day. Bonus: 138 feet longer.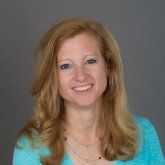 Laura Bilodeau Overdeck is founder and president of Bedtime Math Foundation. Her goal is to make math as playful for kids as it was for her when she was a child. Her mom had Laura baking before she could walk, and her dad had her using power tools at a very unsafe age, measuring lengths, widths and angles in the process. Armed with this early love of numbers, Laura went on to get a BA in astrophysics from Princeton University, and an MBA from the Wharton School of Business; she continues to star-gaze today. Laura's other interests include her three lively children, chocolate, extreme vehicles, and Lego Mindstorms.