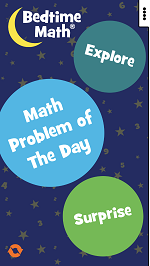 The Bedtime Math app for iPhone/iPad or Android, available in both English and Spanish, is a great way for families with kids ages 3-9 to have fun with math together! Click for the daily math problem, a surprise problem, or any math problem in our archive, which you can browse to find your favorite topics.
Findings from a University of Chicago study shows that Bedtime Math, already proven to boost kids' math performance, has effects that last for years.
With high ratings and great reviews on both the Apple App Store and the Google Play Store, we've reached the top 20 free education apps on iTunes and was named one of the best online learning apps and games for kids by The Wirecutter.