Kangaroos are those big bouncy animals from Australia. A surprising fact about kangaroos is that they have a pocket, even though they never wear pants. But even more surprising is that they can turn up in Alabama, a state in the southern U.S.! People spotted this kangaroo, named Jack, bouncing along the road in Winfield, Alabama. It was staying at a farm there on its way to a zoo in Tennessee, another state. Maybe Jack just got tired of waiting, and decided to hop to it!
Wee ones: Can you hop forward on both feet like a kangaroo? Hop forward 3 times!
Little kids: A kangaroo has 2 big legs and 2 teeny legs. If you take Jack for a walk, how many legs do you have altogether? Bonus: A car is about 15 feet long – and Jack can jump 10 feet farther. How far can Jack jump?
Big kids: Kangaroos can easily hop 15 miles per hour. How long would it take Jack to travel the 75 miles to the Tennessee state border at that speed? Bonus: How much longer would it take him if he hopped along at only 10 miles per hour?

Answers:
Wee ones: Count as you hop: 1, 2, 3!
Little kids: 6 legs. Bonus: 25 feet.
Big kids: 5 hours. Bonus: It would take 2 1/2 hours longer, because it would take 7 1/2 hours total.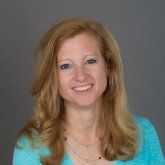 Laura Bilodeau Overdeck is founder and president of Bedtime Math Foundation. Her goal is to make math as playful for kids as it was for her when she was a child. Her mom had Laura baking before she could walk, and her dad had her using power tools at a very unsafe age, measuring lengths, widths and angles in the process. Armed with this early love of numbers, Laura went on to get a BA in astrophysics from Princeton University, and an MBA from the Wharton School of Business; she continues to star-gaze today. Laura's other interests include her three lively children, chocolate, extreme vehicles, and Lego Mindstorms.