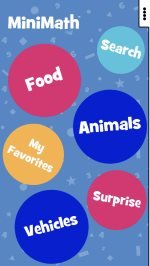 The MiniMath app for iPhone/iPad is available in both English and Spanish, is a great way to help you and your preschooler get ready for kindergarten!
Based on the popular Bedtime Math app for elementary school kids that's proven to improve math skills, MiniMath is designed for families with kids ages 4-5. Choose Food, Animals and Vehicles, or explore other math problems on all kinds of kid-friendly topics. With three different types of questions ("Look," "Do," and "Think"), you'll get a fun new activity every day.
With MiniMath, you'll help your preschooler learn about the world, and get ready for the math they'll learn in school!