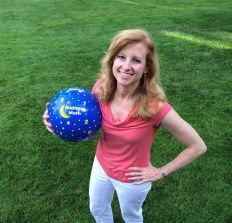 Meet Laura Overdeck
When Laura Overdeck was a kid, she didn't even know what flash cards were. Math was an ingredient in everyday fun activities around the house. Her mom introduced her early to baking, which was a yummy way to count and use fractions. Her dad taught her to use power tools at an unsafe age – more measurement, more fractions. Fractions were your friends: Learn to multiply everything by 1 1/2, and you could bake more cookies. Be off by 3/8 inch on the radial saw, and you might lose a fingertip.
Once Laura became a mom, she wanted to share the same playfulness and power of numbers with her own kids. Along with her husband John, she started giving a bedtime math problem to their two older kids each night after the usual bedtime story. When their 2-year-old started hollering for his own math problem, they knew they were onto something, and Bedtime Math was born.
Since then, Bedtime Math has emerged from the playroom to the national stage, with over half a million people downloading the app, over 2 million visiting the website, and more than 200,000 kids taking part in our after-school club, Crazy 8s. We're now bringing that same spirit into schools to turn math class and homework into kids' favorite part of the day.
Laura holds a B.A. in astrophysics from Princeton University, an M.B.A. in public policy from the Wharton School, and an honorary D. Eng. from Stevens Institute of Technology. When not playing with numbers, Laura likes quantifying the mysteries of chocolate and wine.

New Jersey Legislature, Testimony to the Joint Meeting of the Assembly Education
Committee and Science, Innovation and Technology Committee

Mathematics Association of Two-Year Colleges of New Jersey (MATYCNJ) Conference, November 2, 2019
Math Reboot: A Hairpin Turn on How We Teach Math
Association of Mathematics Teachers of New Jersey (AMTNJ) Conference, Oct. 25, 2019
Gimme More Math! Supercharge Your Math Class with Hands-on Learning
New Jersey Education Association (NJEA) Convention, November 9, 2018
Family Math: Why It Matters and How to Get Started
New Jersey Governor STEM Scholars, May 12, 2018
Graduation Keynote Speaker
JP Morgan Education Summit, September 28, 2017
Host for Fireside Chat of Keynote Speaker Angela Duckworth
Arizona State University Global Silicon Valley Summit, May 8-10, 2017
Bedtime Math and Beyond
New Jersey March for Science, April 22, 2017
Featured Speaker
National Math Festival, April 22, 2017
Bedtime Math and Beyond
U.S. News STEM Solutions National Leadership Conference, May 19, 2016
Bright Ideas and Inspiring Minds
Washington STEM Summit, December 1, 2015
Making Math as Great as Dessert
The Barbara Bush Foundation for Family Literacy, Seventh Annual Literacy Connections Conference, April 2, 2015
Literacy + Numeracy: Knowledge You Can Count On
NJ Department of Education, April 12, 2019
Visionary Woman of Educational Excellence Award
NJ R&D Council, November 2, 2017
Educator of the Year
ExpandEd, May 9, 2017
Spring Benefit Honoree
NJSEEDS, April 13, 2013
Spring Benefit Honoree
Contact Us
For more information about Bedtime Math, or to arrange an interview with Bedtime Math founder Laura Overdeck, please contact Sandy LoPiccolo, Chief Communications Officer, at 908-444-4532 or sandy@bedtimemath.org.